ON-SITE COMIC RELIEF: THE THERAPEUTIC HUMORIST IS IN!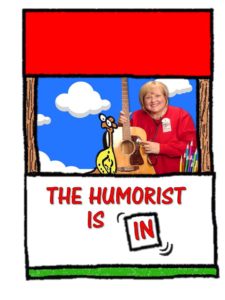 STRESS RELIEF for NURSES by a NURSE
Arrange for Deb to have her colored pencils and trusty guitar available to provide COMIC RELIEF during EXHIBIT HALL hours or at the back of the room!
Attendees are invited to stop by if they are
      feeling overwhelmed and need a morale boost! 
      would like to share a funny story and see it transformed into a cartoon or song lyric.
      are experiencing a challenge and would benefit from some levity
      Or, for any reason at all!
Your Title Goes Here
Cartoons  are usually displayed at the exhibit  table, then gifted to the story sharer. Sometimes attendees vote on the funniest stories. Sometimes favorites are photographed and then shared with attendees during a closing re-cap song.